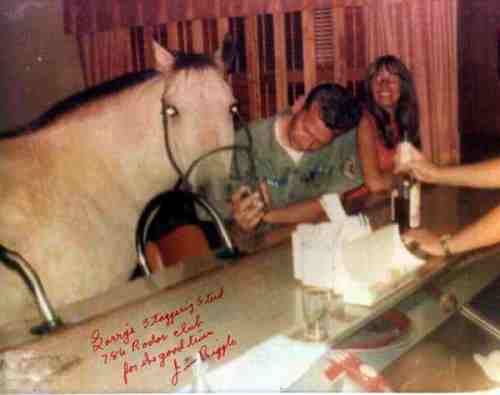 "Horsing Around in the NCO Club".
Bill Kickert sent the photo and this note:
The horse (I think it was called "old red") belonged to Larry Erickson, a local rancher (farmer :-) ), it was fairly late in the evening and Larry liked to stop in the club for a "toddy". On this occasion he happened to have his horse outside in a trailer so we dared him to bring it in the club. You didn't give a dare to Larry. Well you see the results, the horse also left his "calling card" behind. I don't recall the name of the couple in the picture. Jim Riggle (a civilian employee) took the picture, had it enlarged, and gave a copy to everyone present. I believe for a long time a copy of the picture hung behind the bar.

- Bill -