Sentimental Journey
A Trip Back to the 786th - 1998

Before I started the 786th Web Site, I had already planned a vacation for July and August, 1998, which would take me to 1) Galveston, TX, then to 2) Wilber, NE, my home town, for the annual Czech Festival. After having started the web site, and finding Paul Gearin in Mesquite, TX, near Dallas, I made it a point to be sure I'd be able to meet Paul for some beer, food & war stories.

And, since I was going to Nebraska anyway, an additional couple of days to swing up to North Dakota didn't seem to be that much to try to talk my wife into. So, after making a few spousal concessions, it was decided that we'd go to Minot to see old radar sites. I contacted Bill Kickert, who lives in Minot, and he set up a visit to the site, via his brother-in-law.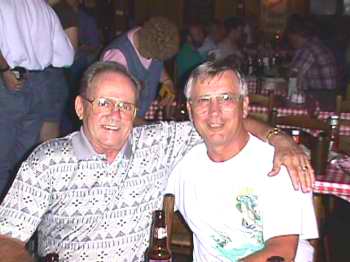 So, it was now set. In late July, we left for a week at Galveston to begin our vacation. When we left Galveston, we stayed overnight in Ferris, TX, about 20 miles south of Dallas. I contacted Paul, and we met for dinner and some rememberances. Paul and his family met me at a Mesquite steak house, where we spent a very enjoyable couple of hours, rehashing our time spent at Minot. It was in 1958, fully 40 years ago, when Paul & I last saw each other. Paul is in good health, successful in business, has a great family, and I'm happy to report that except for some greying hair, looks much as he did so long ago. The evening was too short, and very enjoyable.

Our trip from Nebraska up through the Dakotas was most enjoyable, maybe partially because we were finally out of the record-setting, blistering Texas heat. The scenery in the prairie was magnificent. Funny, when I was in North Dakota as a very young man, I don't remember getting all oozy about fields of anything. These days, though, the sight of literally hundreds of acres of sunflowers was just breathtaking. Farming on the scale done in these parts is almost beyond comprehension.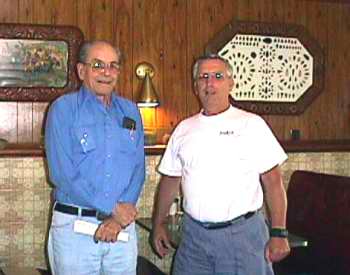 We timed our trip so that we'd be near Max, ND for lunch. Roland "Johnnie" Johnson still lives in Max, and holds court almost daily at "Grandma's Kitchen". I hadn't contacted Roland ahead of time, and when I called him from Grandma's, he was very surprised, and showed up at the restaurant in just a few minutes. We spent an hour reminiscing about people whose names I haven't heard in years. Roland is currently 76 years old, and except for some emphysema, is healthy, alert, talkative and looks absolutely great. Roland stayed on at the site after its closing in 1979 to finish the time necessary for his retirement. He and his late wife were among those who threw the power switches for the last time.
Ed. note: Roland passed away in August, 2000.


Since I had arranged to meet Bill Kickert at the 786th site at 1:00 pm, we soon had to say goodbye to Roland, and head the final ten miles to the 786th. When we arrived at the site, one of the site owners, Nick DeJong, met us within minutes, followed very shortly by Bill & Sylvia Kickert. Nick had the site gate and buildings already opened for us, and acted as our guide for the afternoon. I can't thank him enough for his hospitality.



The old base, closed since 1979, didn't look too bad as we approached it on the access road. Once closer, then inside the fence, the picture changed dramatically. Most buildings are in pretty poor shape. Many of the buildings' roofs have gotten bad, and there is considerable damage from excess moisture. A couple of the older buildings are still surprisingly good, and the newer steel buildings are in pretty good condition. Knowing that this was going to be the case didn't make the scene less shocking, though.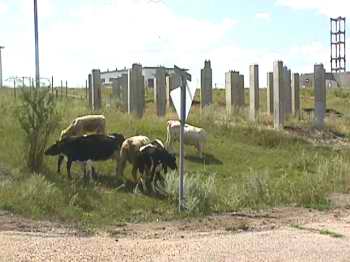 The current residents of the base, a herd of cattle, met us as we entered the security fence. The cattle belong to a local farmer who leases the site for grazing.

The radar towers, except for some remnants have been torn down. The old AN/FPS-6B tower uprights are shown in the photo at left. In the far right background is the remains of the AN/FPS-27 tower.

The operations building is generally intact, but since it's completely dark inside, and stays pretty cool, the mildew smell was strong, and there was a good deal of moisture damage. It was very nostalgic for me to visit the old "manual ops" room, which still has the Directors' room behind glass windows, stairs to the room, and a "Spirit of '76" flag painted on the wall. This room was too dark to get a decent photo, even with flash. So we explored with flashlights. The old radar maintenance room and gap filler room were where I expected them to be, my memory hasn't gone completely, it seems. There was quite a lot of old paperwork from the 1979 period littering desktops in the Ops building. We dug around in it for quite a while looking for artifiacts that might prove worthwhile for the web site. I still haven't gone through what I carried out, and may not find much.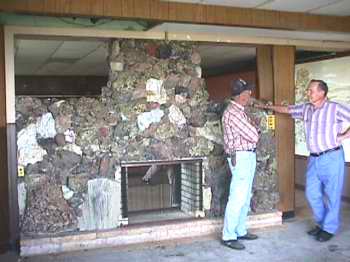 The mess hall has changed some since I was stationed there. The fireplace which separates the enlisted from the NCO sections wasn't there when I was an airman. The building has suffered some water damage, and may of the floor tiles have been lifted from the cement floor. The kitchen area is just as I last saw it, with the red clay tile (which I've mopped on more than one occasion) looks like new, the serving line is still in place, and the skullery still looks as it did 40 years ago. The large, walk-in cooler looks like new, and unless there is damage of some sort to the compressor, could probably be used immediately.

After a couple of hours of roaming around and reminiscing, it was time to leave. Nick and his wife invited us to his house for cold drinks, which we were happy to accept. Their hospitality was like the hospitality of the NoDaks I remembered so well. Though they'd never met us, we were treated as old friends.


---
786th Home Page